Village Maid Cheese was started by Anne Wigmore in 1986 after she had been working for the National Institute for Research in Dairying in Shinfield for 10 years, initially in the microbiological department, and then learning her craft of cheese-making in their research dairy. Today, with husband Andy, her family and hard-working staff, we continue to produce award-winning artisan cheeses.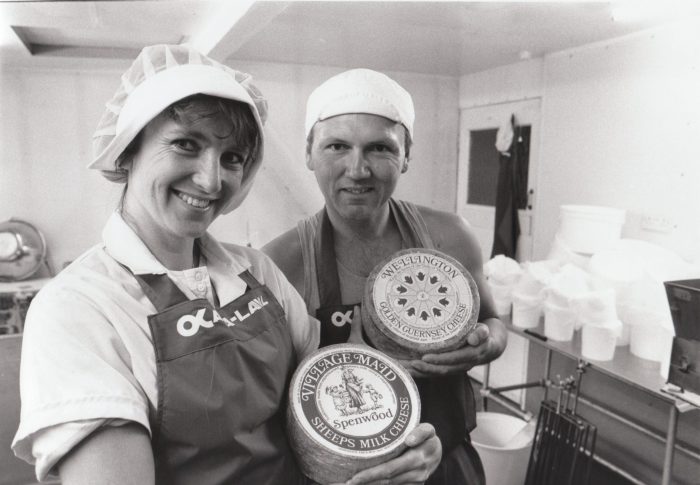 Anne Wigmore began making cheese at the National Institute for Research in Dairying (NIRD) in 1984, having worked as a microbiologist at the establishment. In the experimental dairy Anne produced different types of cheese for projects within the institute and organised tasting panels. She also visited the then few artisan cheese-makers in the country for consultations and this inspired a passion for artisan cheese.
After leaving the institute in 1985 to travel abroad with Andy and two friends, who were fulfilling a lifelong ambition of sailing their self-made yacht back to Australia, their return after six months provided Anne with the opportunity of going it alone. Anne formed her own company under the government Enterprise Allowance scheme where she was paid £40 per week and offered short training courses in administration to become a successful entrepreneur. Thus the seeds of Village Maid Cheese were sown and the company was born from humble beginnings in a garden outbuilding in Spencers Wood near Reading in May 1986.
Not having a farm meant milk supply was to prove difficult, but undeterred, Anne was keen to put into practice what she had discovered whilst sailing, including the wonderful cheeses of Sardinia made from ewe's milk, particularly Pecorino Sardo.
Spenwood ewes milk cheese is the culmination of many years of trials and even today, changes are continually made in order to maintain the quality and flavour remembered from Sardinia.
In 1987 the Duke of Wellington approached Anne to make a cheese for the local estate to be matured in the cellars of Stratfield Saye. Using the milk from his pedigree herd of Guernsey cows, Anne developed a Cheddar-type cheese called Wellington, which was highly acclaimed until the Duke retired, at which point the production of Wellington came to an end.
During this time Anne was working on developing semi-soft washed curd cheeses, which have a shorter maturation time. With the support of James Aldridge as an affineur and retailer, Village Maid produced Rook's Nest, a smoked ewe's milk cheese, and Golden Saye, a washed rind cheese. These cheeses were matured by James using his experience as an affineur.
After the sad demise of Golden Saye, Anne was quick to resolve its replacement in Waterloo, now made from the milk of a single Guernsey herd less than 2 miles down the road at Heckfield Place.
By 1991 Village Maid had outgrown its second premise in Spencers Wood and so moved to their present site in Riseley. Around the same time Neal's Yard Dairy in Covent Garden were looking for a semi-soft ewe's milk cheese and encouraged Anne to try and develop one alongside the Spenwood. Again after months in development, Wigmore was born and is now established as a unique white rinded semi-soft ewe's milk cheese, achieving many awards over the years such as Best English Cheese at the British Cheese Awards and Best Semi-Soft Cheese at the Artisan Cheese Awards.
A collaboration with Neal's Yard Dairy resulted in a washed rind cheese called Riseley, made from ewe's milk and sold exclusively through Neal's Yard Dairy.
In 2013 with the aid of an EC grant our site in Riseley was doubled in size with an extension providing new maturing and packing rooms, and enabling production to increase.
In 2017 Anne & Andy's son, Jake and fiancée Kayleigh joined the business and set about developing a fourth cheese, Maida Vale. Similarly to Waterloo, this semi-soft washed-rind addition is made using Guernsey cow's milk, the rind washed in a craft IPA called Treason from the Windsor-based Uprising Brewery. The cheese was awarded Two Stars at the Great Taste Awards 2018 in its first year of distribution and again in 2019.
In 2019 it was time to extend the premises further - a new hard cheese store twice the capacity of the existing store was constructed adjacent to the Packing Room, Cold Room and Soft Store compiling storage & distribution into one area. A new office space was built and the original cheese stores converted into dry goods storage.
Today, with our team of 14 we are in the process of developing a second hard cheese using Guernsey milk from Heckfield Place, aptly named Heckfield. We are aiming to have the cheese ready for distribution by Christmas 2020.